Garage Fans
At Solatube, we have both powered and solar ventilation solutions to remove heat and odors from your garage, man (or she) caves, workshops, and outbuildings. 
Get A Quote
Being

COOL

is a breeze.
Garage fans make a huge difference in the enjoyability of your garage. Whether you're working on your car, your fitness, or your next great project, you want to keep the harmful fumes and heat out. At Solatube, we have the solutions to keep you comfortable.
Ventilation solutions for every garage configuration.
Solar Roof-Mounted Fans
Open ceiling garages 
Solar roof-mounted fans are an ideal solution for garage and storage spaces with open ceilings, especially when the sun is beating down on your garage's roof and there's no insulation. The solar fan runs all day without adding cost while keeping the entire space cool.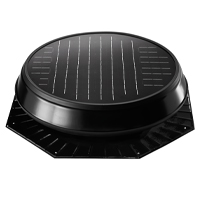 Powered Garage Fan
Closed ceiling garages
For garages with attic space above them, you want to keep both spaces cool, and the structure protected from elements. The powered garage fan features fire-rated damper doors, and a Comfort Control remote providing custom settings at your fingertips.
Solar Interior-Mounted Fan
When you're as busy in the garage below as in the living space above it, a solar interior-mounted fan is a great solution to keep you comfortable. The solar panel sits discreetly on your roof to maintain your home's curb appeal.